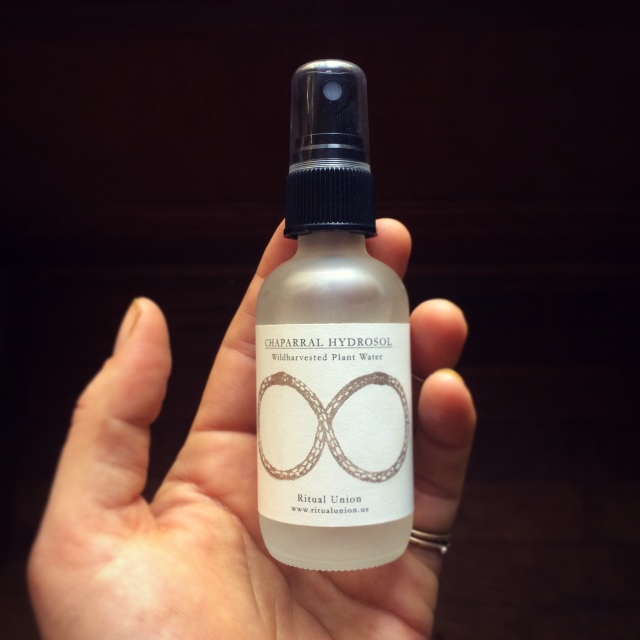 Chaparral Hydrosol
SKU:
Larrea tridentata hydro-distillation in copper alembic. Anti-microbial. anti-fungal. Cell regenerative. Cooling and drying. Use to heal skin and protect from extreme conditions. Use on fungal irritations and bacterial infections. For mouth, use to fight gum infection. Spray on and let soak then rinse. Discontinue after infection clears. Try on dandruff and sun-burn. Cooling.
Helpful spiritual use: For going deeper within yourself. Helps you get in touch with your ancestors and bring them closer to you.

The price here includes shipping costs.

NOTE: there are other hydrosols
currently, lavender, juniper, & rosemary are also available.
Fresh Juniper leaf, Berry, and Wood. Mist to be grounded, protected, & centered. Remember the ancient deep within & your own peace. We are who we have been waiting for. Vibrant, whole, and completed. Mist onto achy parts to bring in wise circulation.
Rosemary is good as a toner, an antimicrobial cleanser. Love it for a scalp tonic. Improves memory and awareness. Spray on scalp to stimulate root growth and manage dandruff. Therapeutically, spritz on to you to wake up.
Lavender is calming, soothing to nerves and skin usually, antimicrobial, great as skin toner, or in your DIY masks. Spray on pillow before sleeping for a good nights rest.